On the evening of March 2, heaps of plastic refuse stacked as high as multi-storey buildings at the solid-waste treatment plant at Brahmapuram in Kochi went up in flames. At least since 2019, the plant, run by the City Corporation, has been seeing such episodes of fire, raging for two or three days before being brought under control.
But this time, the fire turned intense and spread across a wider area by the day. As the few fire tenders and firefighters from the neighbourhood proved inadequate to battle the blaze, more men and equipment were rushed in from fire stations across Kerala. Even then, it was a daunting task, which the Corporation authorities underestimated initially.
Soon, the Ernakulam district administration sought the help of the Navy. The Southern Naval Command deployed an advanced light helicopter for aerial spraying of water on the active fire zone, which had by then expanded to nearly 40 acres of plastic mountains. A day later, the Indian Air Force joined the battle.
Even as intense firefighting was under way round-the-clock, toxic gas, carried mostly in the south-westerly direction first and then in the opposite direction as the wind changed course, left people gasping for breath.
Residents of many apartment complexes in the neighbourhood in the information technology hub of Thrikkakara were left in droves complaining of breathlessness and cough.
Once the fire was doused, the firefighters were left with the arduous task of tossing the garbage using excavators and watering it down to contain the smoke. The smoke was controlled about a fortnight after the fire breakout.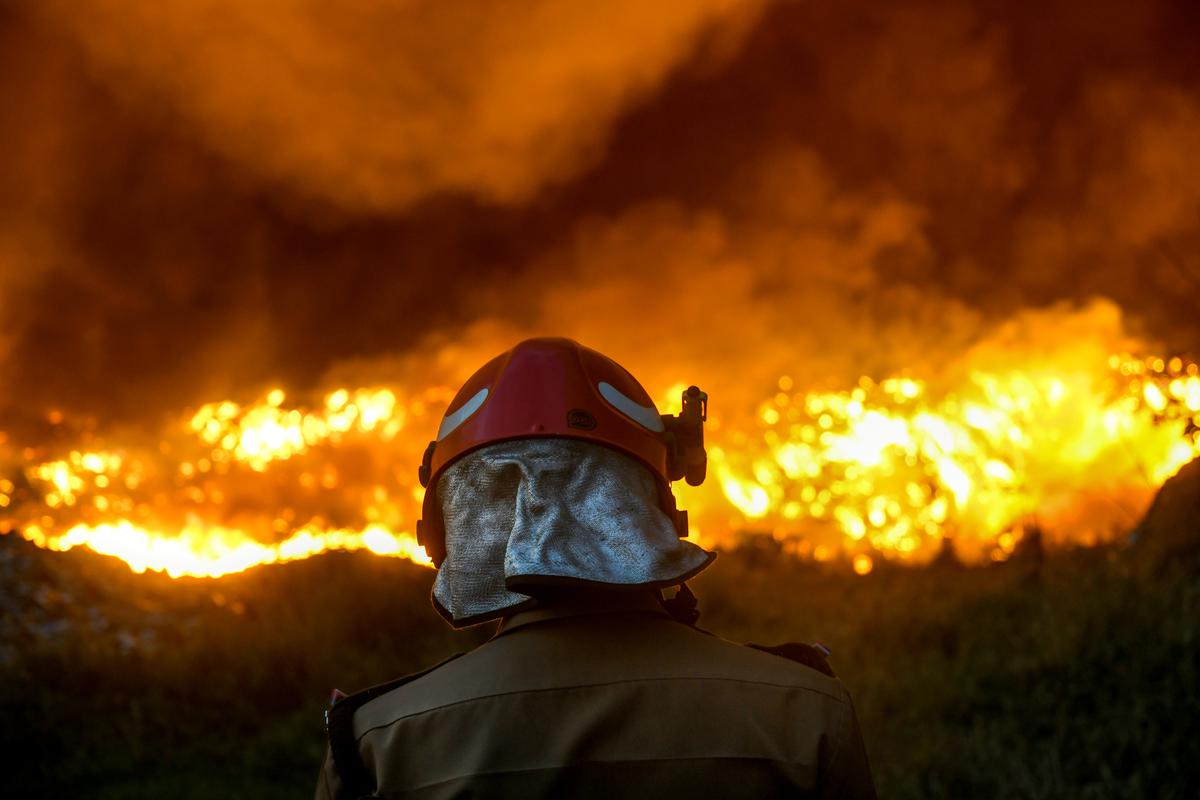 Photo:
Thulasi Kakkat
Fury of the flames: Fire and Rescue Service personnel fought for days together to contain the blaze at the Brahmapuram solid­waste treatment plant in Kochi, Kerala, after tonnes and tonnes of plastic waste caught fire on March 2. After the fire was put out, smoke from the
smouldering embers hung over the city for several days, polluting the environment and dealing a debilitating assault on the lungs.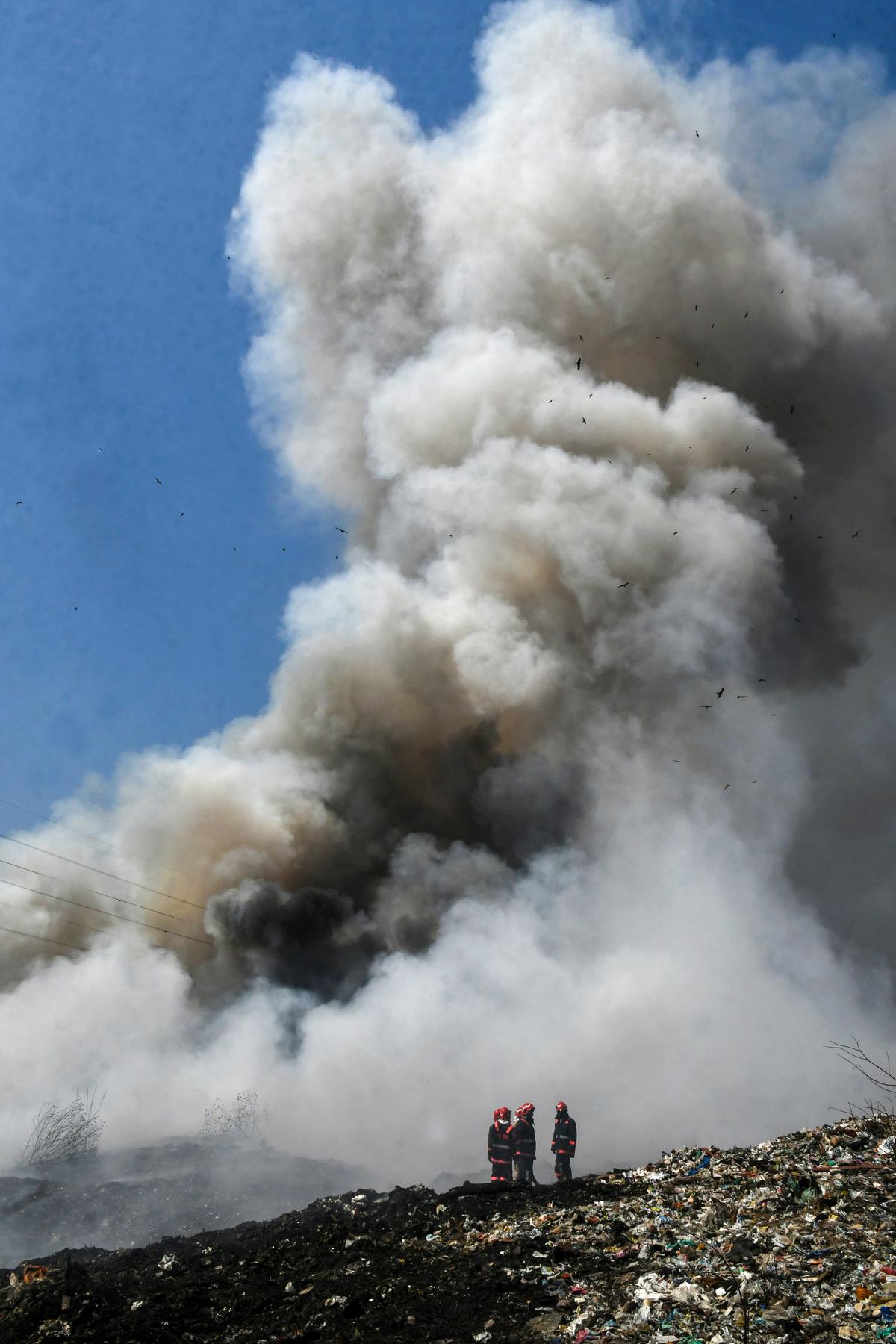 Photo:
Thulasi Kakkat
Rising miasma: Smoke billowing from the
smouldering garbage. Firefighters helped
extinguish the fire, but they had a hard time
containing the smoke.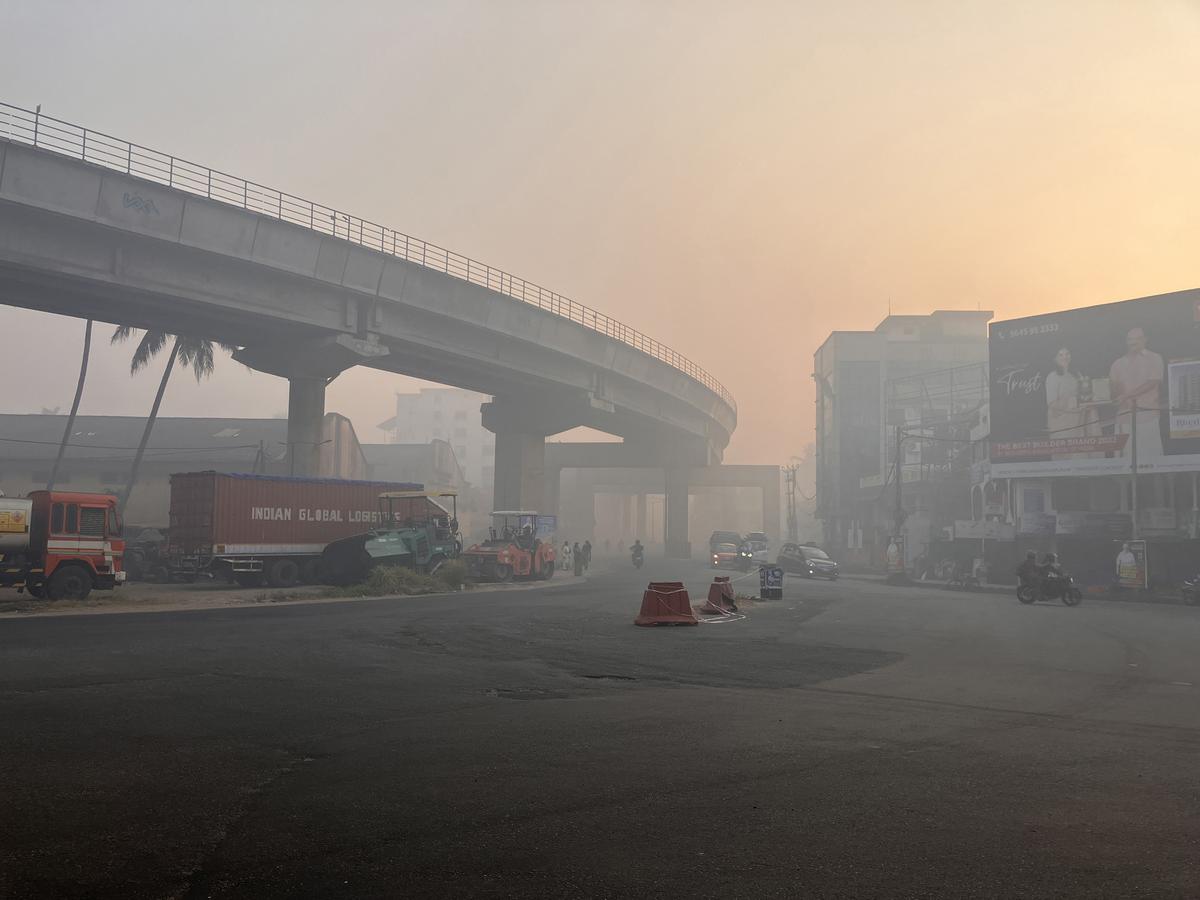 Photo:
Thulasi Kakkat
Choking hazard: Haze over the Pettah junction, about 15 km from the Brahmapuram plant.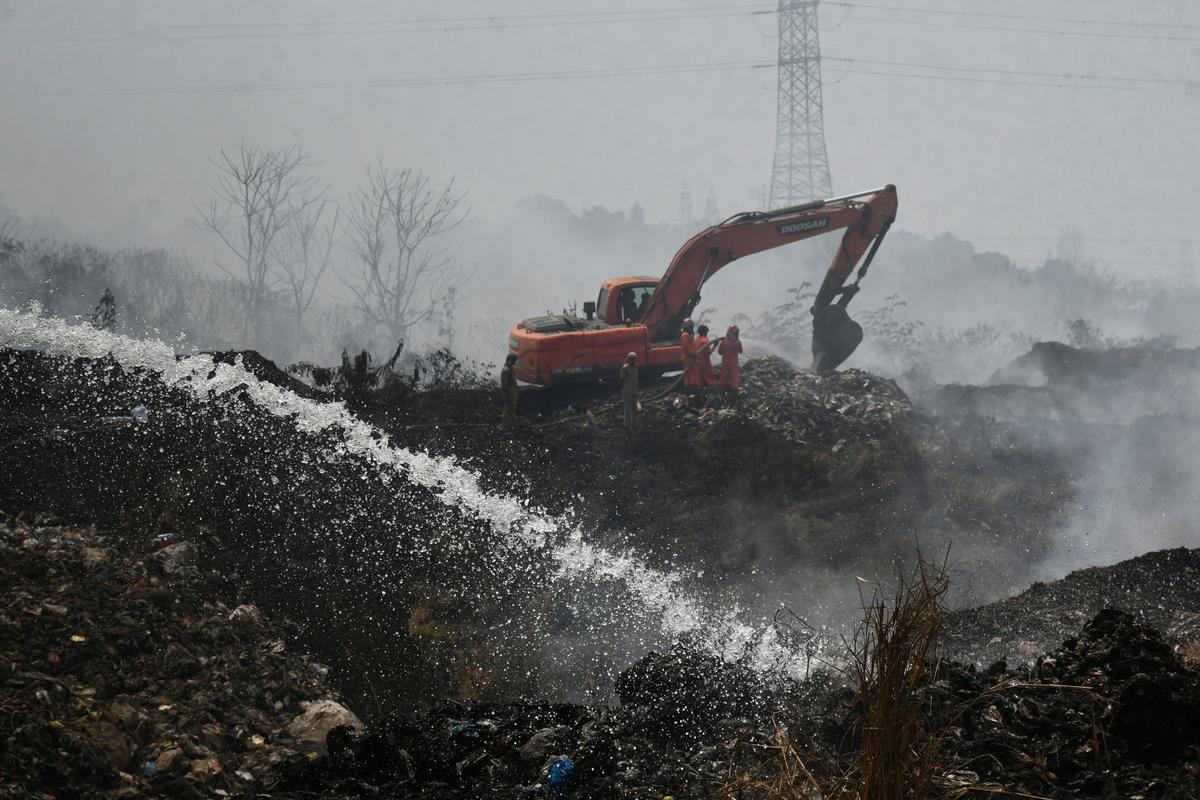 Photo:
Thulasi Kakkat
Spreading it thin: Fire force personnel use an excavator to spread the garbage.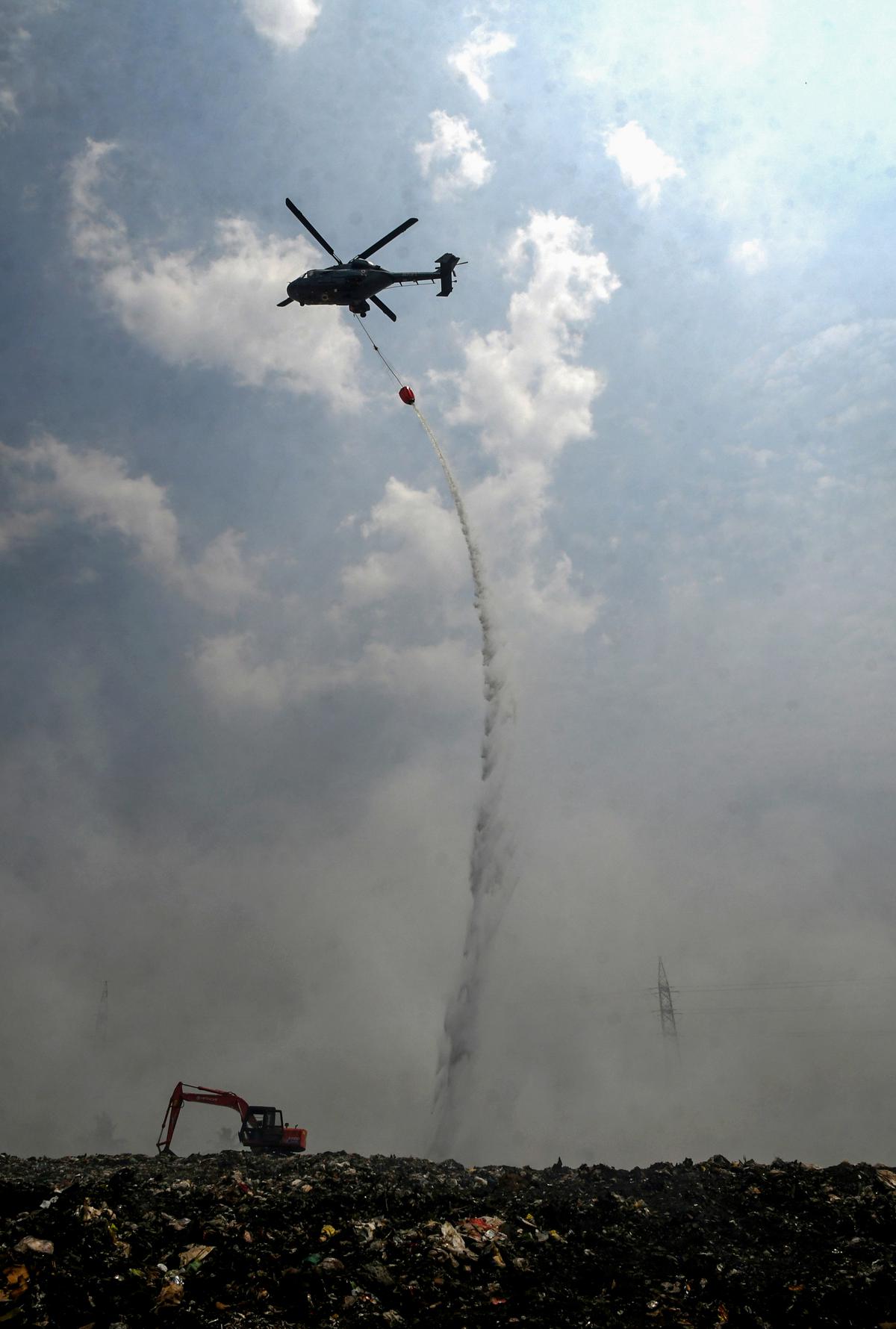 Photo:
Thulasi Kakkat
Aerial strike: Water being poured from a naval
helicopter on heaps of garbage on fire.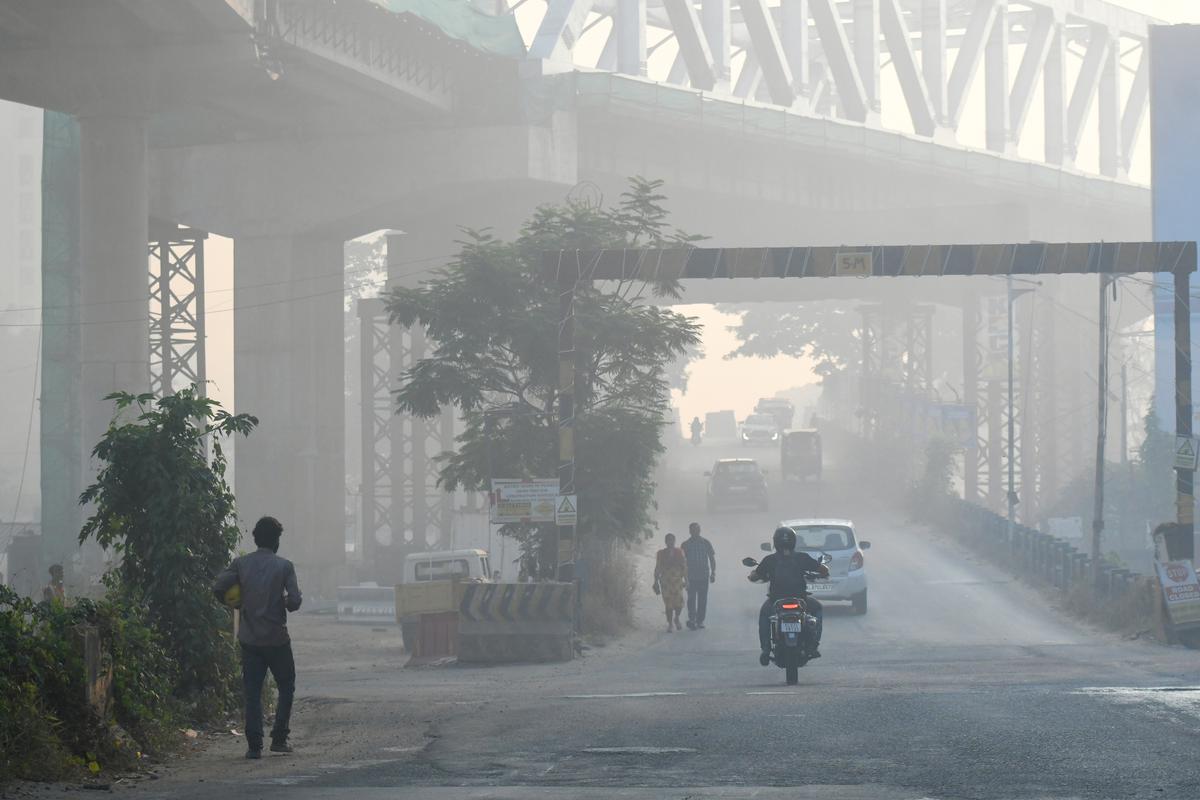 Photo:
Thulasi Kakkat
No outlet: Even a week later, smoke from the fire hangs
over Tripunithura.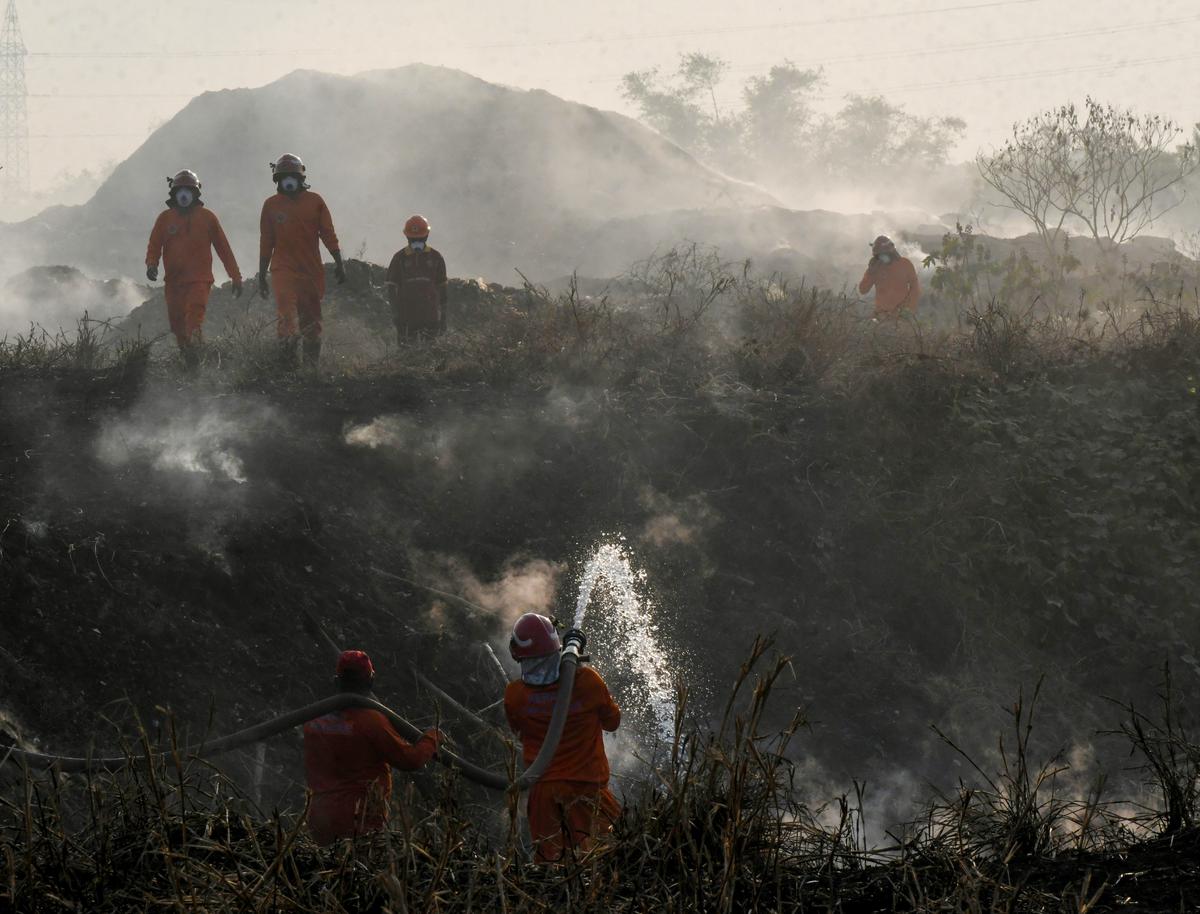 Photo:
Thulasi Kakkat
Hosing down: Fire and Rescue
service personnel spray water to
quell the smoke.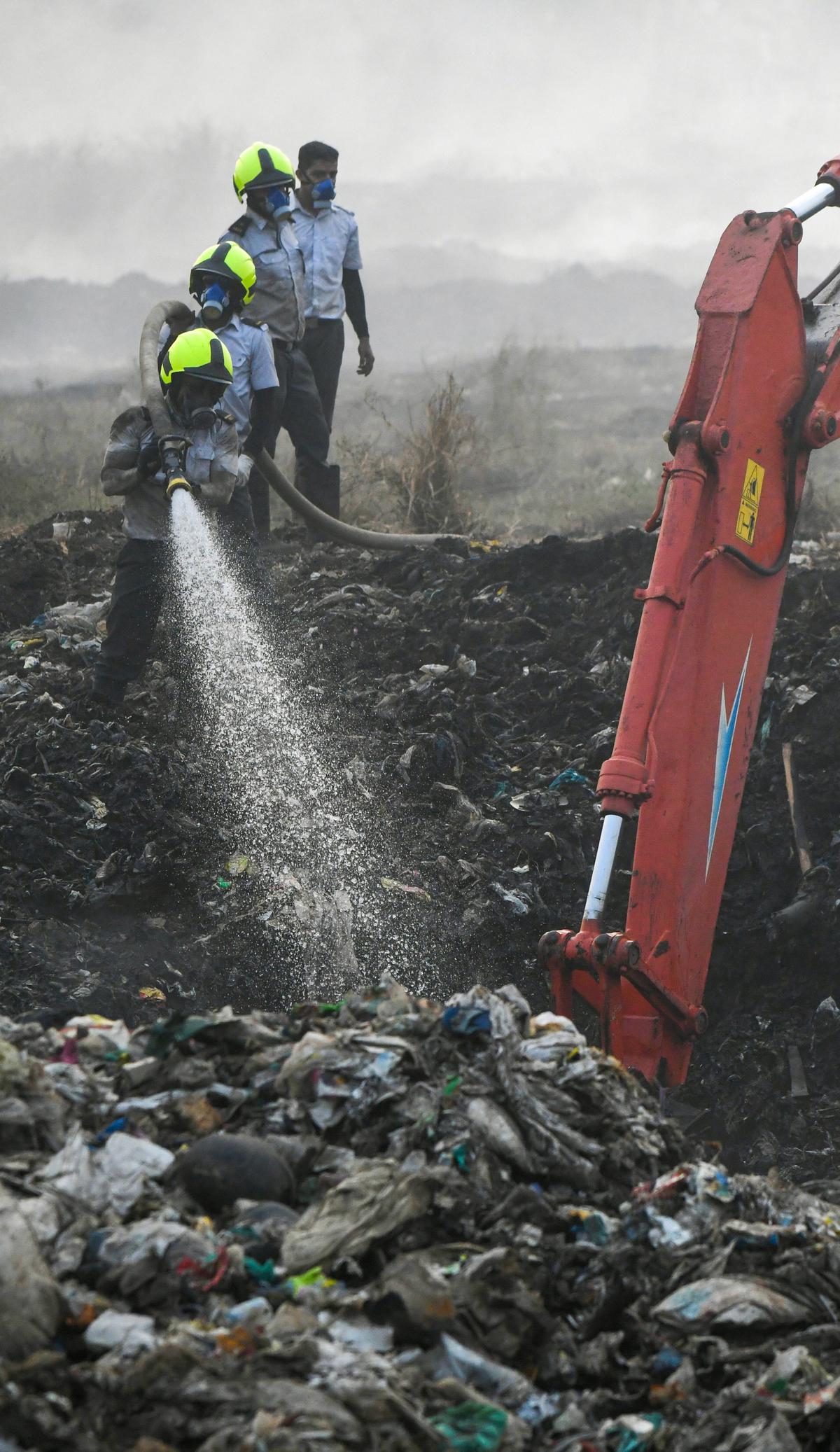 Photo:
Thulasi Kakkat
Timed together: As water is
sprayed on the smouldering
garbage, an excavator spreads out
the heaps to ensure water reaches
everywhere.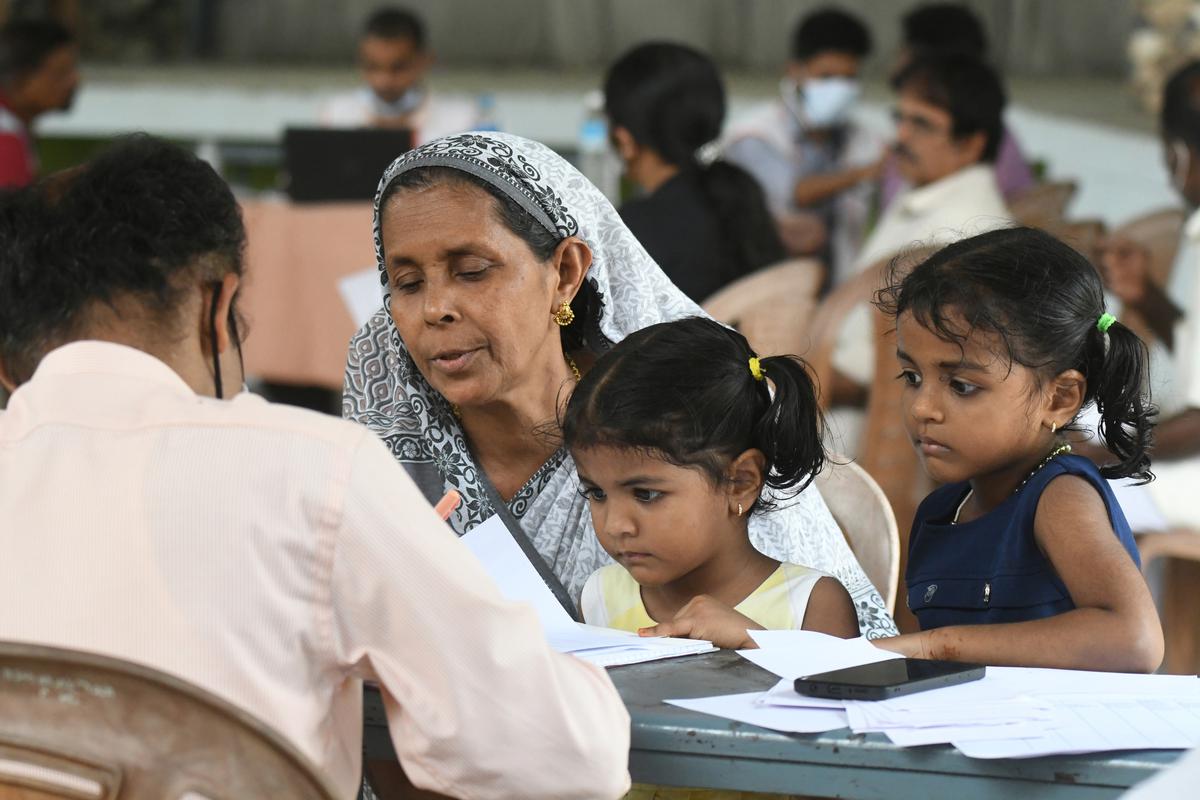 Photo:
Thulasi Kakkat
Hit by smoke: The affected people attending a medical camp
organised by the Health Department at Nettoor in Kochi.