New Delhi: 'Mrs. Chatterjee vs. Norway', starring Rani Mukerji, has generated tremendous interest. The film is scheduled for release on March 17, and on Wednesday, a special screening was held at the YRF Studios, which was attended by several A-listers from the Bollywood industry. Celebrities and reviewers alike have praised the film even before its official release.
One of Rani's closest friends, Shah Rukh Khan, recently reviewed the film and had nothing but great things to say about the actress and the movie. On Thursday, the actor took to Twitter to praise the work of the film's team and declare the movie a "must watch."
He tweeted: "What a tremendous effort by the whole team of Mrs Chatterjee vs Norway. My Rani shines in the central role as only a Queen can. Director Ashima, shows a human struggle with such sensitivity. Jim, @AnirbanSpeaketh , #Namit, #SaumyaMukherjee, #BalajiGauri all shine. A must watch." 
Kiara Advani also penned a passionate remark about the film on her Instagram stories. She wrote, "A heart wrenching story! Rani Mukherjee, you're just the best. To the entire team, incredible performances and such a powerful story, it breaks my heart to know that there are families who go through this but the power of a mother is unmatched. Congratulations to the entire team for telling this story."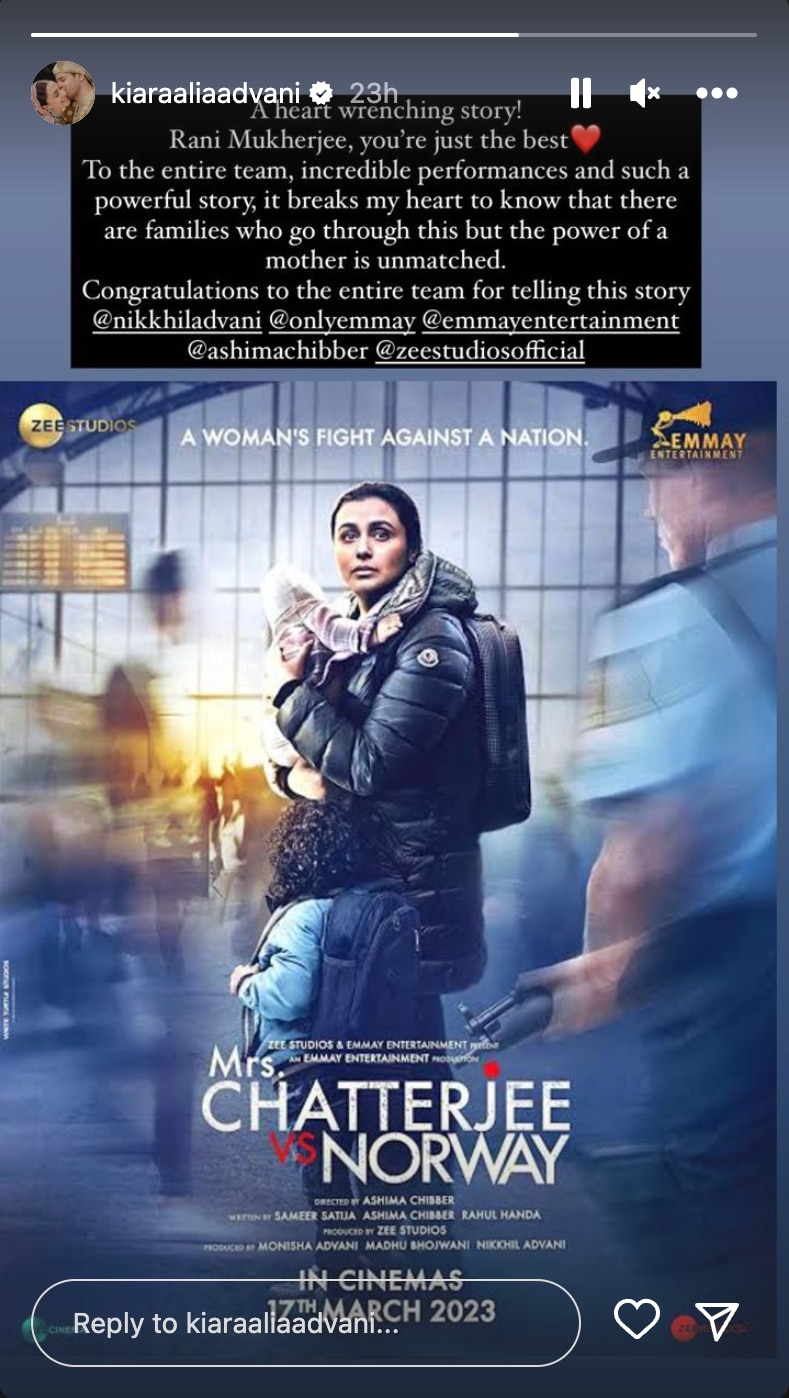 'Mrs. Chatterjee vs. Norway' is about an Indian woman who sues the Norwegian government after her children were taken from her by the country's daycare system. It's based on the actual tale of Sagarika Bhattacharya and Anurup Bhattacharya, an NRI couple.
After a lengthy absence, Rani Mukherjee is set to hit the big screen once again with 'Mrs. Chatterjee vs. Norway'. The movie faces up against Kapil Sharma's 'Zwigato' and Upendra Rao's 'Kabzaa' in theatres.
Rani was last seen in Bunty Aur Babli 2 in 2021. 
ALSO READ: Who Is Sagarika Bhattacharya? Expat Mother Whose Fight Inspires Rani Mukherji Film 'Mrs. Chatterjee Vs Norway'